Our distance glasses are for those who are nearsighted and need help to see better in the far distance. The glasses suit you who have a minor visual defect and hard to see things clearly in the far distance, for example: If you don't see the signs clearly when you are driving or have difficulty reading the text when you watch TV.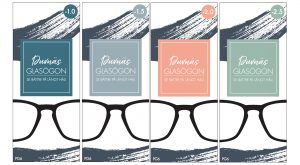 • The glasses comes with a soft case for best protection. • Clear color scale that makes it easy to find the right strength • Available in 3 models and 4 diopter -1.0 to – 2.5
CARE INSTRUCTIONS
• To reduce the risk of scratches on the glasses, we recommend that the glasses are stored in the case when not in use.
• Rinse the glasses in lukewarm water before cleaning them, otherwise small particles might scratch the lens.
• When cleaning, use wet wipes suited for glasses.